The A11 Infantry tank Mk1
Bovington Tank Museum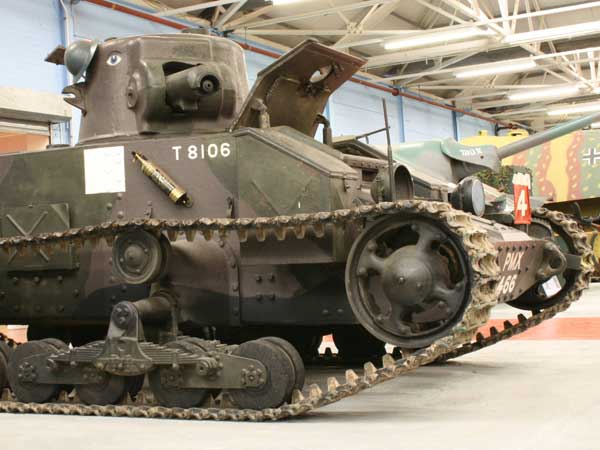 British Matilda 1 tank, by Tom Cole. Photos taken at the Bovington Tank Museum
British Matilda 1 tank - turret detail, by Tom Cole. Photos taken at the Bovington Tank Museum
The following is an extract from an article soon to be published in the Miniature Armoured Fighting Vehicle Association (MAFVA) magazine "Tankette".

The tanks named Matilda. The A11, Infantry Tank Mk 1 became known as Matilda and whilst there is some debate as to how the name was derived, it was the designer Carden who code-named the tank Matilda at the design stage. (Some claim that Elles christened the tank after a cartoon duck having seen the prototype waddle through initial trials). However, although it was an appropriate name, the A11 was christened Matilda long before the first prototype left the factory. To differentiate the A11 from the later Infantry Tank Mk II - A12, the A11 was known as Matilda I and the A12 as Matilda II or Matilda Senior. However after the retreat from Dunkirk the A11 became obsolete and the A12 took up the nomenclature of just simply "Matilda".

Description. The Infantry tank Mk I was a small two-man vehicle with low hull and small cast turret that carried a Vickers machine gun - initially a .303 inch was fitted but later a 0.5 inch calibre replaced it. Although heavily armoured, the tracks and running gear were completely exposed and vulnerable. The work load of the two Matilda crewmen was enormous, particularly for the tank commander.

Photos and article courtesy Mr. Tom Cole. The photos were taken at the Bovinton Tank Museum.

If you would like more information please contact MAFVA at: www.mafva.net.