Strategic Command 2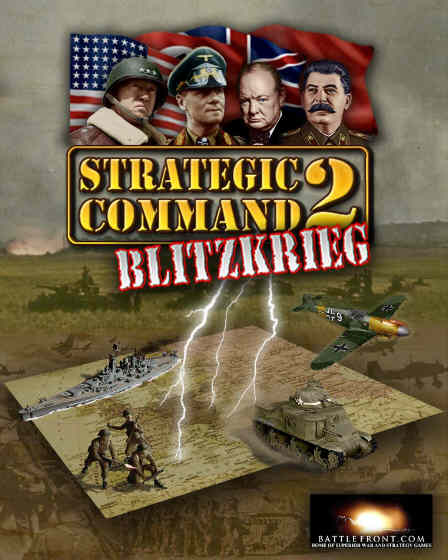 Strategic Command 2 Goes Gold and Demo released!
Battlefront.com and Fury Software are thrilled to announced that Strategic Command 2 Blitzkrieg has gone gold. The game will begin shipping once production is complete (within 2 weeks).
To help you count the days until Strategic Command 2 Blitzkrieg ships, we are pleased to release the new Demo already today. The Demo includes two campaigns, Fall Weserübung (1940) and D-Day (1944) and allows you to play against the computer as either the Allies or Axis.
Download the Strategic Command 2 Blitzkrieg Demo
here
.
ABOUT THE GAME
Strategic Command 2 Blitzkrieg allows you to rewrite history with 6 full length, open ended campaigns beginning at key stages of World War II. Begin the war from the historical invasion of Poland in 1939, Denmark and Norway in 1940, Russia in 1941, Stalingrad in 1942, the invasion of Sicily by the Allies in 1943 or the epic beach landings of D-Day in 1944. Also included are 5 extra mini-campaigns depicting specific landmark battles such as Kursk, Operation Market-Garden and the Battle of the Bulge. Control the forces of 30 different nations utilizing 16 different unit types including all new ones like Paratroopers, Engineers, Partisans and Amphibious Transports.
Expandability is also the name of the game with Strategic Command 2 Blitzkrieg as it comes with a full game editor allowing you unprecedented power to create or modify maps, units, countries, diplomacy options, unit production schedules, research technologies and more. You can even use the powerful scripting system to create historical events that can be triggered based on events or game circumstances. An entire game engine is now at your fingertips to control, change and create as you wish!
The original Strategic Command was known for its challenging and cunning A.I. and Strategic Command 2 Blitzkrieg cranks up the challenge factor even more with the inclusion of an all new diplomacy and counter diplomacy model, expanded capabilities for air, naval and HQ units, dynamic weather, updated tech. research and production levels and many other configurable special rules.
Strategic Command 2 Blitzkrieg features exceptional single player gaming against the AI as well as a variety of multiplayer options (Hotseat, PBEM, TCP/IP). Strategic Command 2 Blitzkrieg requires Windows 98, ME, XP or 2000.
About Battlefront.com
(
www.battlefront.com
)
Battlefront.com is an independent, internet-based publisher and developer of superior war and strategy games, and home to one of the world's largest and fastest growing wargaming fan communities!
About Fury Software
(
www.furysoftware.com
)
Fury Software is a young gaming company that was founded in 1999 by Hubert Cater. Although a newcomer to the war gaming development arena, Hubert gained shook the computer war gaming world with his first professional release Strategic Command European Theater in 2002. That title went on to gain both consumer and critical praise and fostered an enthusiastic player community that has been awaiting his follow-up game with great anticipation. Hubert's mandate has always been commitment to quality from day one. Strategic Command 2 Blitzkrieg is Fury Software's second game release.