Photos of Tanks - Musee des Blindes, Saumur
There are around 230 photos of tanks on the site. Tanks detailed include: St. Chamond, Schneider, FT-17, Renault R-35, Hochtkiss H-35, Somua S-35, B1-bis, Grant, Sherman, M-8, M-10, M-24, M-26, M-41, M-47, M-48, M-60, S-tank, M-40, Pz-61, Merkava, Leopard I, Leopard II, Panzer II, III, IV, V, VI, VIb, Lynx, Bergpanther, KV-1, Su-100 tank destroyer, T-34, T-34/85, T-54, T-55, T-62, T-72, Matilda, Priest, Conqueror, Centurion, Crusader, Chieftain, LeClerc, AMX-30, AMX-40, AMX-50, ARL-44, Pluton, AMX-13.
Musee des Blindes, Saumur photo portfolio shot December, 2005 by Narayan Sengupta. The Musee des Blindes is located in Saumur, France.
Tanks and AFVs at the Musee des Blindes - Saumur, France
Musee des Blindes - Saumur - Home
American Tanks at Saumur
American WWII Tanks: M3, M8, M10, M24, Jeep, LVT4
American M4 Tanks
American M26 Tanks
American Cold War Tanks: M47, M48, M60
German Tanks at Saumur
German WWII and WWI tanks: A7V, Pzkw II, Pzkw III, Pzkw IV, Schutzenpanzer
German Tiger tank
German King Tiger tank
German Cold War tanks
British Tanks at Saumur
British Matilda tank
British WWII tanks: Churchill, Crusader, Centaur and Priest
British Cold War tanks: Centurion, Chieftain, Conqueror
Soviet Tanks at Saumur
Russian T-34 tank and T-34/85 tank
Russian KV-1 tanks
Russian SU-100 tank destroyer
Russian Cold War Tanks
Russian T-72 Tanks
French Tanks at Saumur
French Renault FT-17 tank
French St. Chamond Tank
French Schneider Tanks
French WWII Tanks
ARL-44 tank
AMX-50 tank
AMX-30 tank
French Cold War Tanks
French LeClerc MBT
Other Tanks at Saumur
Italian Tanks: M15 and M42
Israeli Cold War Tanks / Merkava Tank
Swedish Cold War Tanks
Swiss Cold War Tanks
Accomodations and Other at Saumur
The following external links were submitted by Bill Hanna, who tells me that he has just bought a farm and opened holiday acommodation just a few minutes from Saumur for military enthusiasts.
www.lechapy.com - hotel/rental near Saumur
www.mafva.net - Miniature Armoured Fighting Vehicle Association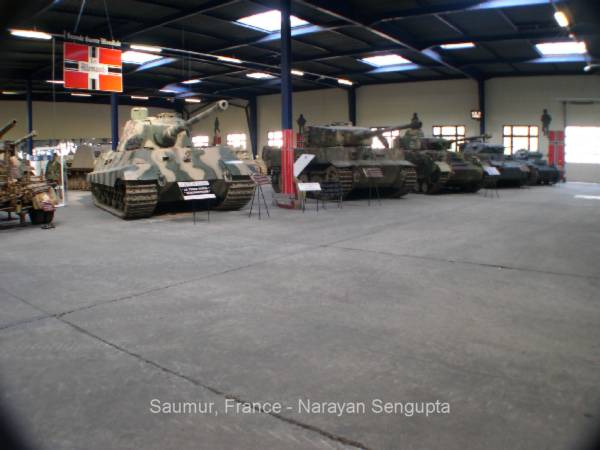 LeClerc MBT with 120 mm gun.
Musee des Blindes, Saumur, photo portfolio - December, 2005, Narayan Sengupta. Please see below about purchasing high quality photos of these images or to view quick links to all 16 pages of tank photos.