PG III FAQs
This is a collection of FAQs that have been asked or answered in JP's PGIII Forum or have been asked and answered off-line. I have used the original pen-names instead of getting real names since it was easier to do so. If you would like to have your real name used, then please let me know...
Launching problem
I have just bought PG3: scorched earth v1.1. I belive it was properly installed, though I have reinstalled just to make sure. The problem is that when I try to launch the game, only an error - message is displayed. It tells me to insert the CD, which is already inserted. Do any of you know what to do? - Torjus Gaaren

I have had that problem with PG3-SE myself, and it has always been due to the operating system not recognizing the CD-ROM drive at all when the computer is first started. To find out if that's the problem, check the 'My Computer' folder and see if it knows the PG3-SE CD is in the drive. If it can't find it, the solution is simply to reboot the machine. However, I have had problems with another game not liking the drive letter address of a CD-ROM drive, and thus failing to find it. The address was 'G' or something like that because of numerous partitions. - Philip Nelson
Design Credit:
Website: Atlanta SEO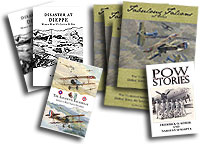 American Eagles - The Illustrated
History of American Aviation
in World War I
$24.95
Lafayette Escadrille: America's Most Famous Squadron
$19.95

Visit our GIFT STORE
Game Upgrades, Books & more...

Strategic Command 2
Commander - Europe at War
People's General
Panzer General
Allied General
Pacific General
Tanks! - 90 pages of tank photos

Battleship Bismarck
Disaster at Dieppe!
Slapton Sands Sherman
Robert Thibault, French Soldier
Matilda at Bovington Tank Museum
Liberation of France in 1944
Paris fortifications
Verdun (7 pages)