Delta Queen
Chattanooga Cuts the Queen Adrift - For several years, Chattanooga, Tennessee has been home to the Delta Queen, a stunningly beautiful steam paddle boat/hotel that floats gently on the Tennessee River at Coolidge Park. The ship is a National Historic Landmark, and the last American riverboat with overnight guest rooms. The views she serves of Chattanooga by night or day are the finest in the city and nothing short of spectacular. Her beauty is admired by thousands, and she is the centerpiece of hundreds of recent tourist and local photos.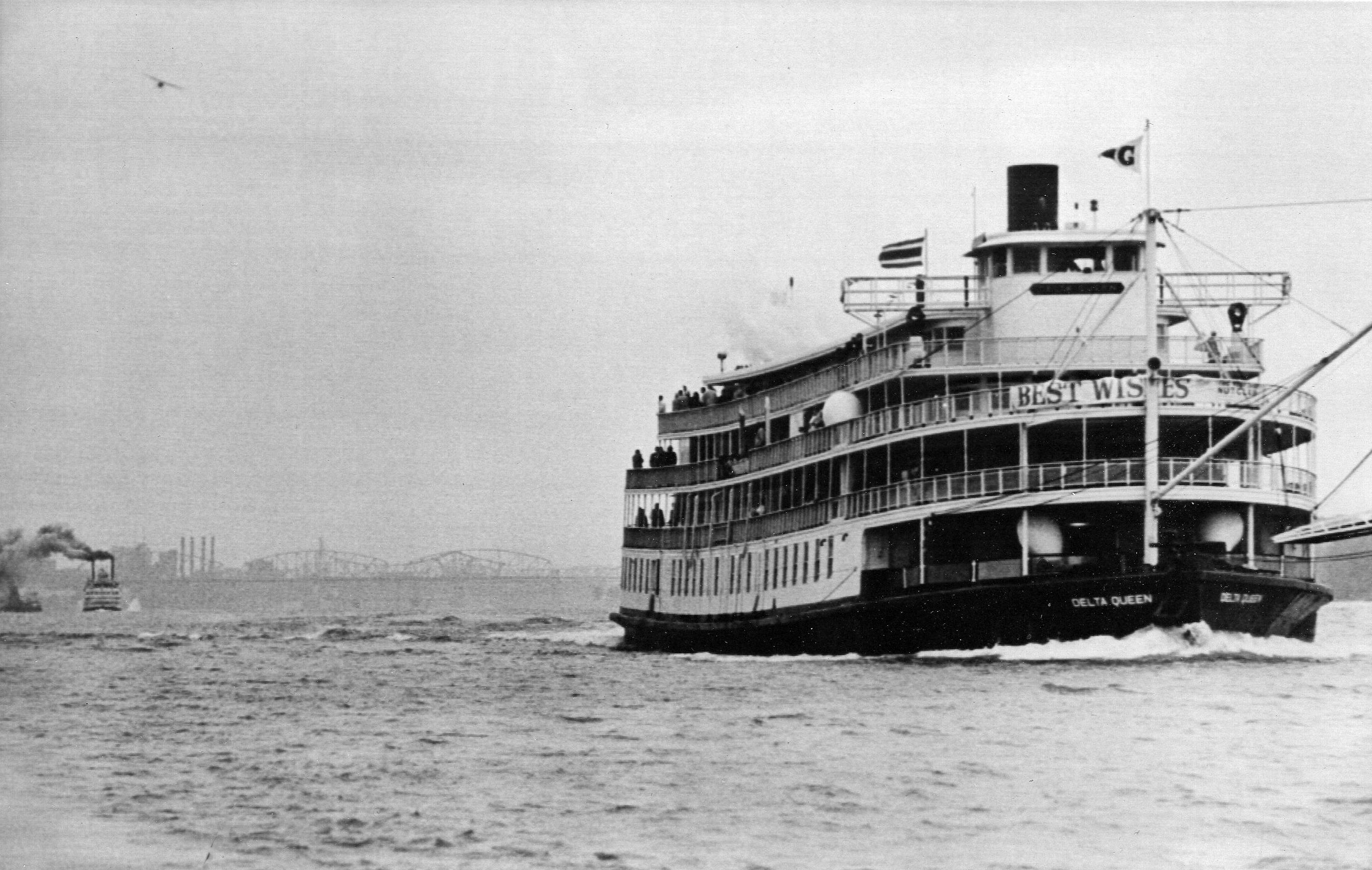 Delta Queen in the early days. Credit: NavSource-14340702
This treasure was designed and "fabricated" in Scotland in 1925 and 1926, knocked down, shipped across the Atlantic and then reassembled in Stockton, California. Measuring 285 feet long by 60 feet wide, she, and her brother Delta King were the largest, most expensive and most luxurious paddle boats in the world when they were built. At $875,000 a pop, they certainly earned their "Million Dollar Steamer" nicknames. From 1927 on, they made over 4,500 cruises each, always without mishap, carrying tons of freight and tens of thousands of passengers in the process.




Delta Queen was retro before retro was cool. Her design evokes the 1880s. In the Roaring 20s, she plied California's coastal waters as a freighter with room for well-heeled tourists. She survived the Great Depression, wharf worker's strikes, new regulations and more.

On December 7, 1941, the Japanese attacked Pearl Harbor, catapulting the United States into World War II. Three days later, the US Navy took Delta Queen over, named her YFB-56 (Yard Ferry Boat), painted her navy gray and made her a troop transport in San Francisco Bay. She brought wounded Pearl Harbor victims ashore from large ships. At times, she ferried up to 3,200 men at once. Post-war she was mothballed for about a year, but in 1947, she was bought at auction for $46,250 by the Greene family and moved to Cincinnati. She resumed civilian service and the name Delta Queen. The Greens included Captain Tom Greene, who was actually born on a riverboat, and his mother Mary Greene, the family matriarch, who was one of the first women to become a licensed river pilot. Mary lived on board, and, in 1949, died on board the ship. In between, "the majority of her time was spent entertaining guests while enjoying her time on the river," adds Jennifer Lemmon, a long-time member of the staff and the unofficial ship historian. Now Mary's ghost reputedly haunts the vessel.



During World War II
In the '80s and '90s, Delta Queen won numerous steamboat races. As other steamboats were scrapped right and left, she survived, and then she became the last that could sleep people aboard. Since 2009, the ship has called Chattanooga her home. She no longer sails the rivers, but she still does function as a beautiful hotel. She has 88 rooms and sleeps 176.




Adults and well-behaved kids occupy the interior and exterior common areas on the main deck. Those not admiring the views of Chattanooga's booming Southshore or busy in happy conversation or on their laptops are engaged in books, puzzles and board games (Delta Queen has shelves full of them onboard). The warm "crew" checks in on everyone and inquires to see if people have all that they need.

Delta Queen is full of brass fittings, gorgeous mahogany, oak and walnut paneling, chandeliers, and elegant period furniture. Her outside promenade decks have rocking chairs, bench swings and many tables. There is the famed mahogany Grand Staircase that is flanked with art deco brass decorations. There are perhaps 10 room configurations. Rooms have king, queen, bunk or twin beds. All have wall-to-wall carpeting, ornately carved wood furniture, private bathrooms, sinks, large mirrors, white wooden wall panels, wood ceiling panels, little white hexagonal bathroom tiles, lots of pillows and very comfortable beds. Her lovely staterooms are also bestowed with giant windows and Tiffany stained-glass panels. A few rooms even have writing tables and bathtubs!

The ship's areas have pretty names like the Texas Bar, the Twain Bar and the Orleans Room. The food is delicious. It is prepared by Chef Joyce Ballard, who has been with the ship for over 15 years, and who also met her husband Craig on board. Like Chef Joyce, the rest of the "crew" is very friendly and does what they can to make everyone on board feel right at home from the moment they arrive.

Speaking of great hospitality, Jennifer Lemmon was kind enough to give us a tour. The ship is four decks high above the waterline. Above it all is the bridge, with two flying wings and the single-smoke stack fed from two now dormant boilers. "The smoke stack can easily be folded down by one person," Jennifer assures us. It was designed to fold to allow the ship to pass under low bridges.



The main deck has the dining room, which was once used for freight and is still covered in its original exotic Thai ironwood that is now over 85 years old. The dining room used to be up one floor, but when freight became passé, it was moved down one deck, and more cabins were added in its place to the main deck. Above are three passenger decks. The crew used to sleep up on the top deck, but later they were moved to cabins on the decks below the waterline. The engine room and boilers are down there too.

The engine room is neatly organized. Its flooring is color coded with its red (pay attention) and green (walk at ease) flooring. The machinery is a mix of 1920s to 2010s, at least if counting the electronics up on the bridge. Speaking of which, the view from up there, perhaps 50 feet above water-level, is phenomenal.

At the bow is a steam-whistle and a big brass bell reputed to have been heard by Mark Twain himself, as it has been passed down from older ships. The single smoke stack has a nifty fold down feature to permit the ship to slip under older, lower bridges.

Celebrities, including President Hoover, and later President and Mrs. Carter and their daughter Amy have stayed on board. So have senators, Vanderbilts and movie stars like James Garner. Guests come from all over the country and from various parts of the world. Some have cruised 40 to 50 times on Delta Queen, at least while it was still sailing.

If you want drama, then note that the ship had a murder back in the 1920s. Jennifer tells us that it involved gambling, a pretty woman, the chef and the ship's butcher. Never get into a knife fight with a butcher. The chef lost.

It's the most fantastic location of all time... The view of Chattanooga's Southshore is framed between the dancing Christmas lights of the Walnut Street Bridge and the Market Street Bridge. In front of us is arrayed, from left to right, the Hunter Museum, 99 Walnut Street, the Tennessee Aquarium, Ross' Landing and more. We see yachts and Christmas trees, the Tennessee Riverpark, and, of course, the gentle Tennessee River.

Now this grand old lady, the ONLY riverboat left in the USA for overnight passengers is to be shuttered forever. Leading the charge to dispose of her is Chattanooga's young and inexperienced mayor Andy Burke. I don't know what his motivations are. However, he has been trained as a lawyer, and his official bio gives no hint about any love of art or culture. Perhaps he and the city council should spend a night on board and see what they are missing. After all, this is America's cultural legacy, and it's a wonderful draw to Chattanooga.



Delta Queen's fate is anyone's guess at this point. Yes, the most expensive, beautiful paddleboat ever could turn into a derelict hulk, get scrapped or move to another city. She could have her artisans wood carvings fed into a pulping machine, her brass fittings, boilers and other metal melted down, and her beddings and pillows and other sundry items auctioned off or thrown away. Or she could remain a fine hotel beloved by Chattanooga's wonderful people and all Americans, and remain part of our nation's grand cultural legacy for decades to come. Write Chattanooga's mayor Andy Burke (mayor@chattanooga.gov) and tell him to save Delta Queen!

Narayan Sengupta
Atlanta, Georgia

Sengupta has been a frequent visitor to Chattanooga for over 40 years. Written with special thanks to Jennifer Lemmon and Chef Joyce Ballard.



Delta-Queen-74


Delta-Queen-80